djpaeth's Profile
Please take a minute to sign my Guestbook! Thank you!
I am doing my best to try and recover from a very devestating house fire November 13, 2012 in which all of my birds perished and every bit of my personal property was destroyed. I literally walked away with just the clothes on my back.

Thank you to all my SingSnap friends for being there for me and lending their emotional support as I try to pull my life back together from scratch.

I am so thankful no human died and my dogs escaped unharmed.




I love it here on SingSnap and am having the time of my life making new friends and listening to some truly amazing talent here!! Thank you in advance for stopping by my studio for listens. I try to return the kind jesture by visiting other people's studios and leaving comments as well.

A little about me - I grew up in a home where every Sunday morning after church my Daddy would sit and play his guitar singing old country songs while Mom would be in the kitchen making dinner. Music runs in my family as my Grandpa used to have his own country band (The Lone Star Ramblers) and played publicly for years. All through out my teens I wrote songs and poems. Some were even recorded in Nashville! Maybe some day I'll get up the nerve to sing them here on SingSnap. (sadly all burned in the fire!)
I love to sing even though I was born with a perforated eardrum in one ear and no eardrum in my other ear. This makes singing a bit more of a challenge but that's ok. I love a challenge!

I have recorded several open duets so I'd be honored if you would join me in any of them. Be sure to send me the link so I can have a listen and comment.
Thank you so much for stopping by my studio!!

On January 9, 2012 after suffering a massive stroke, my beautiful Mom traded in her butterlies for a pair of angel wings. I love you and miss you so much Mom!! Exactly 6 weeks (almost to the minute) later I had to say good-bye to my 10-1/2 year old little dog Jesse James. He was my absolute best friend, always at my side and always full of unconditional love. He is now with my Mom, his "Cheerios Gramma", in heaven. R.I.P. Mom and Jesse!!
Below is the dedication sing, "Always On My Mind", that I did for my Mom.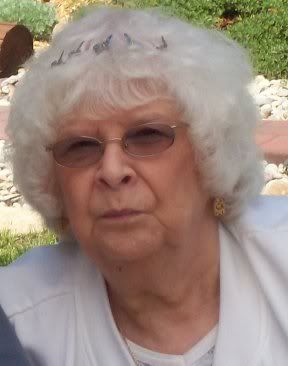 Take a moment to have a listen to some of my personal favorites below ~







<!-- note to user: this html was filtered -->