Profile
MY PRESENT TO YOU...
GUARANTEED...the most important info EVER!!! NO, I'm not selling anything!

Hi! My name is Sue. How do you do?

First, I want to thank you for visiting my studio and for your kind comments! You always put a smile on my face with your visits and you will never know how much you are appreciated!


*
*
For those who pm me to thank me for listening and commenting on their sings, but do not comment on my sings, in kind, do not expect me to continue visiting and commenting on your sings (whether in a contest or otherwise).
*
I will not tolerate negative comments on my recording page, either, and they will promptly be deleted! If you don't like what I'm singing or care for how I'm singing it, I would much rather you be like a tree and leave!
*
As much as I like to think of everyone on SingSnap being friends and supportivie of each other, unfortunely, that's not reality.
*
~~~~~~~~~~~~~~~~~~~~~~~~~~~~~~~~~~~~~~~~~~~~~~~
*
I can't believe, that I've been a member of SingSnap for six years now! You know, the saying, "Time flies when you're having a good time?" Well, it definately applies here!
Well, actually, I haven't been singing all that time. I did go without internet for almost a year and I REALLY missed everyone! Not being able to be here on SingSnap is like losing your best friend(s)! During that time I had a small stroke. It affects my short-term memory. If I get interrupted, everything goes out the window! So, if I don't get back to you, that is more than likely why and I hope you'll forgive me! I have now been told that I have "Diastolic Heart Failure". It has hampered my way of life and interferes with my ability to sing and my time at my computer is limited. But, I've been known to break the rules and spend too much time here. lol
*
*
SingSnap is a wonderful community and it's "Magic" when other talented people from all over the world join you in a duet! How cool is that!!!

This duet (below) really hit home to me how incredible it is to sing on SingSnap. I had once told my friends at karaoke that I wanted to sing in every state before I die. To date, I have been to karaoke in eight states. lol When I realized that my voice was being heard in England, I knew that I had far surpassed my lofty goal and Trey's incredible talent on his saxaphone brought tears to my eyes. It just dawned on me how appropriate this song really is in regards to what I had actually considered a silly goal! My voice is being heard all over the world and that's the next best thing to actually being there. The fact that I even found SingSnap...well, that is "Magic"!!!


*
*
*
*

ABOUT ME...
I'm married and have two grown children, who left the nest but have returned. There's also my service dog, Buddy...
... two cats and two chinchillas. Never a dull moment!

My hobbies are singing (of course), reading, writing/embroidery/quilting/sewing/jigsaw puzzles and camping.
Singing has always been a very big part of my life. I grew up with classical, folk and pop music...learned to play the guitar and can shake a mean tambourine. I sang in choir in junior high school, high school, church choirs, and, in "The Messiah", for seven years, with the Augustana College choir. They've sung it for over one-hundred years! It was always exciting to hear the soloists, who come from all over the country. I, also, sang professionally until my health took a dive ten years ago.
MY STORY...STAGE FRIGHT...
When I was about 8-years-old, I was singing with the radio when my mother and sister looked at each other and declared that I sounded just like Connie Francis. From that point on I received Connie Francis albums for every special occasion and began my quest to be every bit as good as Connie as I possibly could be...which, of course, is an impossible quest because there will never be another Connie Francis. But, you see, I wanted to please my mother. Unfortunately, not much ever did, but, I won't go into that other then to say that singing became my place to retreat and regain my strength when life threw hardballs at me. So, while the other kids were outside playing together, I was inside singing with Connie for hours on end. I suppose that kept me out of trouble but it didn't do much to help me learn to socialize. So, my quest to make my mother happy, by being on stage, was quickly squelched when stage-fright took hold while trying out for a school musical. I shook from head to toe and my voice tightened so much that every note sounded like an off-key, shaking, squeeling pig! The utter humiliation totally traumatized me! Kids definately can be cruel and they, no doubt, delighted in teasing me about my failed attempt to share my hard-earned talent. So, I retreated back into my small world and it was another twenty years before I finally attempted to sing solo in public again. But, this time I couldn't sing at all...not even to sound like a squeeling pig. I froze and my mind went blank. I remember a man standing below the stage trying to tell me the words to the song, but I was shaking so hard that I couldn't even move. I was asked to bring my words with me the next night and try again. But, the next morning I woke up to find my voice had completely deserted me and it didn't return for three weeks!
Fast-forward several years. I'd had neck surgery (cervical fusion) due to a car accident and I hadn't been able to sing for seven years. My voice was hoarse and sounded like a cross between June Allison and Kermit the Frog. It was then that I was introduced to karaoke...and karaoke machines. How wonderful it would be to sing with music in my own key! But, I had two things to overcome...my inability to sing and the stage-fright. So, I bought a karoke machine and taped my first few singing attempts. I sounded horrible! I remember too well the overwhelming feeling of loss. An angel must have been whispering in my ear, because it dawned on me that my vocal chords are muscles and just needed re-building! So, I began practicing, a little at a time, in spite of how it sounded, and I did my best to ignore the hissing coming from my throat... until I was singing four hours a day and the hiss was only noticeable when singing really high notes. After six months, I was ready to go to karaoke and conquer the stage-fright.
MY FIRST NIGHT AT KARAOKE...
Surely, I could sing with the words right there in front of me! Well, a few! I was singing "The Rose" and actually got a few verses out before it happened again...my mind went blank...even with the words right there in front of me! But, this time the crowd didn't tease and "boo" me! This time, they encouraged me to continue, and, they did everything they could to help me get that next note out. I remember looking at them and thinking how nice they were and that they weren't something to be afraid of. In fact, I knew it would make them happy if I could finish singing the rest of the song...even if it sounded really horrible! These people were accepting me...faults and all! Tears are falling now, as I revisit that moment in my life, because, in that moment of acceptance, the tight grip that had held me hostage, for so many years, suddenly let go and my voice returned. I sang the entire song in a way that I've never sang it before or since. For that brief few moments the fear was completely gone! I know now, that I was singing a song of freedom! The crowd was delighted and it was a surreal moment for me. Is it any wonder I turned into a karaoke "junkee"?

It wasn't long after that I found myself singing with a partner and making money doing what I loved to do the most. Life was good. Then, one night, at a packed gig, I opened my mouth and was horrified by what came out. It wasn't like any note I'd ever heard before and I couldn't control it. I saw a throat specialist and learned that the 'hiss' was from a hole in my vocal chord. The hole had happened from a scapel mishap during my neck surgery. Because it wasn't attended to when it had happened, it never healed properly. My doctor was doing a new procedure for sagging vocal chords. He thought it might help me. I had also walked into a glass door and broken my nose and didn't know it! So, I had surgery for it, too.
I'm not saying that the surgery was the cause, but, it was shortly after this that my health began to take a dive. First, lymphedema in my legs, and before long I was diagnosed with one "syndrome" after the other. I was VERY depressed and felt l wasn't long for this world when a good friend of mine introduced me to karaoke on the internet. You see, I had decided that I wanted to record myself and make cd's of my singing to leave to my children as my legacy. I felt SS could help me accomplish it. I had no idea that I would meet so many wonderful people here! As isolated as I had become, SS was a real blessing for me! It helped me to regain my fighting spirit. I left my timid role and demanded my doctor refer me to Mayo Clinic, where I finally got the proper diagnosis and treatment I had needed for so long. Along with the very apparent depression, I also suffered from the worst vitamin D deficiency they had ever seen at Mayo...an epidemic in this country! My muscles were so weak and painful that I couldn't walk or lift anything without my sockets separating. Singing was beyond difficult and for over three years I couldn't stand up without fainting. Between that and needing my legs elevated, I was a prisoner to my recliner. It turned out that I was, indeed, very close to death's door and the thing that I had feared for most of my life...singing for other people...turned out to be the very thing that has saved my life...and, here I am.

...

*
*
I've been in some fun contests. In one, I wrote my own lyrics to "People Are Strange". It's good for a laugh!

Have you ever sung a song backwards? And have you ever heard "Crazy" sung backwards? And, sung it seriously?

It took me several attempts before I could quit laughing!...
141.

140.

139.

138.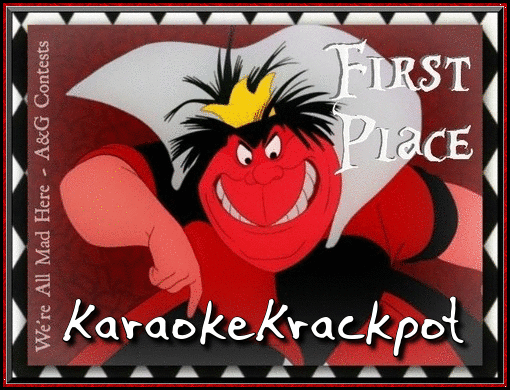 137.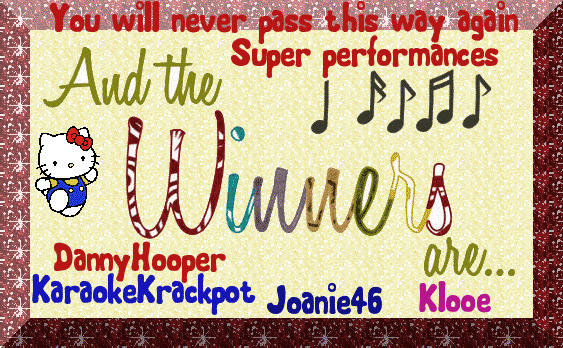 136.

135.

134.

133.

132.

131.

130.

129.

128.

127.

126.

125.

124.

123.

122.

121.

120.

119.

118.

117.

116.

115.

114.

113.

112.

111.

110.

109.

108.

107.

106.

105.
104.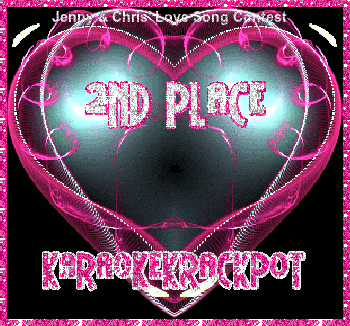 103.

102.
*We also have talented songwriters on SingSnap! They let us sing their songs and even award us for doing so!


*
*

*
An original song written by SingSnap's own Jeff Faltskog...written for a guy and "feminized" by me...
*

*
*
101.

100.

99.

98.

97.

96.
Dedicated To My Mother... 'To Where You Are'
*

95.

94.

93.

92.

91.

90.

89.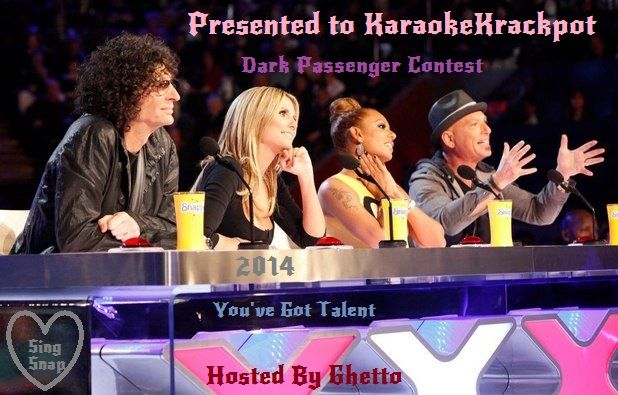 88.

87.

85.

84.

83.

82.

81.

80.

75.

74.

73.

72.

71.

70.

69.

68.

67.

66.

65.

64.

63.

62.

61.

60.

59.

58.

57.

56.

55.

54.

53.

52.

51.

50.

49.

48.

47.

46.

45.

44.

43.

42.

41.

40.

39.

38.

37.

36.

35.

34.

33.

32.

31.

30.

29.

28.

27.

Pretty funny...I had to sing 'baby' fifteen times in this song

....
26.

25.

24.

23.

22.

21.

20.

19.

18.

17.

16.

15.

14.

13.

12.

11.

10.

9.

8.

7.

6.

5.

4.

3.

2.

1.