Profile
LEVEL 71
Please Call me Rose...my bio is below..
I had been away for the most part of three years caring for my mother after a stroke left her paralyzed .. Mom passed away in April 2016... Mom and I were very close so I am still reeling from that loss.. I am back on SS on a regular basis now and hosting two seperate forums.. a Taste of Country and BJs Blues & All That Jazz.. Drop in and check us out..
Thank you for the visit.. Rose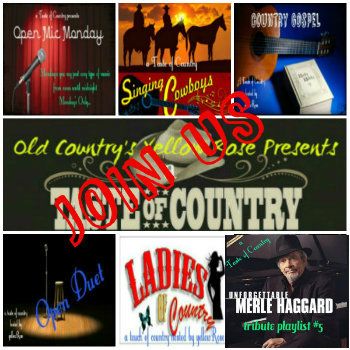 I am a writer/poet/lyricist ... I have always loved music and although I have a wide range in my vocals from almost bass to soprano I sang soprano in choir from First grade on up.. Later I sang country in some small clubs with my first husbands band. He was a guitar pickin' cowboy and stunt man... The marriage along with singing in clubs only lasted a few years... In the early eighties I was asked to go sing in Nashville with a band as a back up singer.
I had to decline as I was now remarried and raising a son & four daughters two of which were under 3 years old.. I know I did the right thing for my family. By no means do I consider myself a professional singer.... My music roots have been basically folk music and Country Western but I grew up hearing mom sing jazz all the time. Only since joining Sing Snap in September of 2013 have I expanded to Jazz, big bands and blues.. Much to my surprise these genre's seem to suit my voice the best.......
I am loving that I can do that here and discover different aspects of my vocals. Although I sing pretty much every genre for the past 2 1/2 years it's been mostly Country music because I am hosting a Country & Western thread here.... You should check out A Taste of Country! Thanks for the visit.. Rose
I AM A SURVIVOR... I HAVE A BROKEN WING RIGHT NOW BUT I WILL LEARN TO SOAR!