Profile
LEVEL 39
I'M HERE ONCE MORE AFTER A YEAR OF NOT SINGING AT ALL!
I NOW AM THE VERY BLESSED GREAT-GRANDMOTHER OF EIGHT. AGES 2-11. 3 boys, (ONE IS AQUAIRED) AGES 2-4,: TWIN GRANDDAUGHTERS AGED 2. ONE AQUAIRED AGED 5; AND ONE NATURAL, AGED 4. PLUS...ANOTHER IS EXPECTED IN MAY.

(WE DON'T KNOW THE GENDER YET.) THE ELDEST GIRL IS 11.

[background font=Mouse+Memoirs fontsize=22 fontColor=#FF00FF contentColor=#000000 opacity=0]http://dennisdillinger.com/KDimages4/pro305.jpg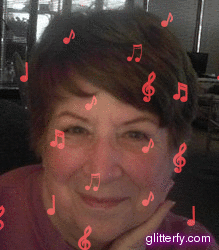 http://media.singsnap.com/bg/lovekaraoke.jpg