TheWitchDoctress'

Profile Page
TheWitchDoctress' real name is Heather MacDonald. Heather is 53 years old, is located in Ontario / Canada and has been a SingSnap member since November 9, 2006. She has a total of 97 public recordings that have been viewed 6,691 times and 118 achievement points.
Information Written by

TheWitchDoctress

24
APRIL 2017: Fast forward 6 years...my how time flies. I took a break from karaoke; I took a break from many things. Now I am trying to heal my body & soul. I started listening to Home Free (acapella group) about a yr ago & figured it was time to come home to SingSnap. I'm not sure if I will record anything yet but music is my way of healing me. UPDATE: I guess I found myself a couple of tunes to try today...lol.
October 2011: I haven't been in here for awhile as I'm having way too much fun watching, participating & voting for Whosarmy on Cover Me Canada which started late September 2011. UPDATE: Whosarmy won Cover Me Canada

May 21, 2011: Ms. Charlie, my eldest cat (who I thought was 17 but in fact was 20 years old - long story) passed away yesterday. I am thankful that, like Snoopy, I have a recording here on Sing Snap with her in it before she got sick. This is my ol' gal:
11/21/2010: Taking one day at a time, learning to live with Diabetes. When I saw this on the message boards, I knew I had to participate, if only for myself: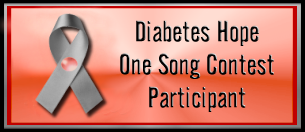 http://www.singsnap.com/snap/r/b7847c40e
09/01/2009: TheWitchDoctress is now single!
UPDATE 4/11/2008: Snoopy put up a great fight for life but ultimately we had to send him on to the Rainbow Bridge yesterday afternoon. He has been me and my son's companion for almost the last 11 years. I know I did the right thing but it still doesn't ease the pain of losing my furbaby. In time I know I will heal and that I will see him at the bridge when it is my time to go.A heart of gold stopped beating
Two shining eyes at rest.
God broke my heart to prove,
He only takes the best.
God knows you had to leave me,
But you did not go alone.
For part of me went with you.
The day he took you home.~Author Unkown
Sometimes I do forget to send back a quick PM for all of you who leave me a message and for that I am truly sorry. But, I'm letting you all know through here, that I really do appreciate all the comments I receive from you!
Drop by my son's page (feir) and see what he's been up to...http://www.singsnap.com/snap/member/feir