thecrazycheezer's

Profile Page
thecrazycheezer's real name is Dani (Sloane) Scott. Dani (Sloane) is 33 years old, is located in USA and has been a SingSnap member since April 28, 2010. She has a total of 96 public recordings that have been viewed 8,622 times and 17 achievement points.
Information Written by

thecrazycheezer

4
First and foremost I would like to say I am an aspiring vocalist and would love to sing professionally as a career. I love singing and I have sung since I was old enough to know what singing was. It is my talent. I would love to say I have more then one talent, but in all honesty singing is my "basketball or football" if you will. I have practiced it since before I can remember and I have a true passion for singing myself and encouraging others to sing. I am your all around Singer/Musician/Lover of all things music
I am an aspiring singer/performer. My predominant favorite is Jazz, but I also enjoy Broadway, some pop songs and the occasional contemporary styled piece as well as country and a plethura of other genres. I am a soprano but I have a pretty wide range. My favorite performers are Eva Cassidy, Jane Froman, and Sarah Vaughn, and more contemporary artists then I care to mention right now.
Music is my passion and I love to share my passion with others...if you take time to listen please enjoy your experience! Some of the songs (pop-culture) I do more for fun...I am not always the best at singing pop music. However, I do try.
I look forward to listening to more and more singers on this website! I also love getting requests...I cannot always sing them but I will try. It is my ultimate goal to start a singing career someday...but we shall see. Much love and God bless!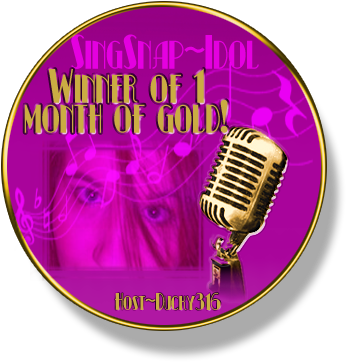 Add me as a buddy on AIM: thecrazycheezer