s

t

a

n

1

9

4

7

'

s

Profile Page
stan1947's real name is Stan Adams. Stan is 73 years old, is located in Thailand and has been a SingSnap member since April 21, 2012. He has a total of 146 public recordings that have been viewed 8,081 times and 188 achievement points.
Information Written by

s

t

a

n

1

9

4

7

35
would like to tell you something about myself. First of all I have 2 grown children 1 boy and 1 girl , my daughter, is a Registered Nurse, has 3 children and my son is a new father, he is currently going to school. As for myself, I am divorced. I have taught English for more than 7 years in Vietnam, Thailand, I am back in Thailand working as an English teacher in a private school not far from Bangkok, I have also traveled to Singapore, Laos, Cambodia and Malaysia. Before that I had a business for more than 15 years, where I put on Concerts, featuring different singers, I also was a Radio Disc Jockey for more than 10 years.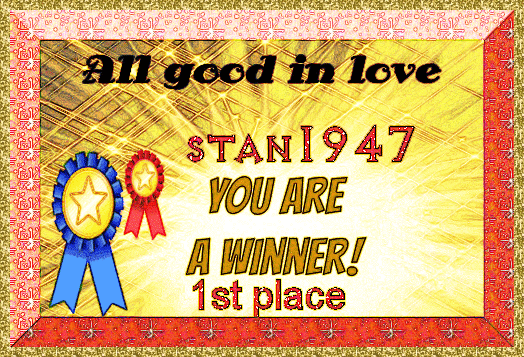 [URL=http://s1295.photobucket.com/user/cats_eyes_4_reals/media/3rdwinner%20stan%201st_zpsckmainbt.gif.html]http://i1295.photobucket.com/albums/b6