Profile
<
-----///\\-----Plz
----///-\\\----Put This
---|||--|||--On Your
---|||--|||--account If
---|||--|||--You Know or have had
----\\\-///---Someone close
-----\\///-----Die or survive
------///\-----Of
-----///\\\----Cancer
----///--\\\---And Remember them fondly
Just plain ole Me ;o)
In this earthly life, I have A battle to fight & An adventure to live cause there is just to much out there to give up !
,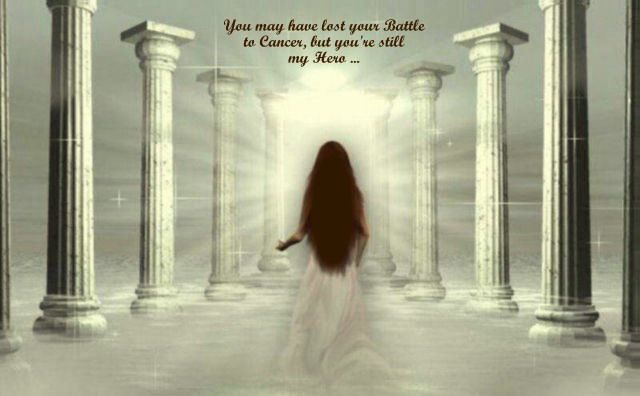 Love and miss you to the moon and back


,
Oh and I'm a Lassie in Love n being loved, so keep it to the Music


I'm here to have a good time singing, listening to some good music and spending time with true friends. I'm not into the singsnap drama, and don't intend to get involved in it, so please, don't try to pull me in. Let's do what singsnap is for, and get together and have a good time!
I would like to thank everyone who takes the time to stop by to listen and comment..
I deeply apreciate it and even if I take a while , I will come by and listen to your songs too.
Talking about listen, check out my Soulsis Sue (pepper100 ) love you gal
There's always something to be thankful for, just take your time to look for it. For example
I am thankful for the fact that wrinkles don't hurt...griiiiin
~ Be blessed & be a blessing ~
Oh, oh , one more thing ...
I love the site and love listening to others sing. I also appreciate the feedbacks that I get but I think that it is better to get one feedback on one song in any day than 12 feedbacks over a 10 minute period with an automated feedback when its obvious the singing has not been listened to. I feel that this does a disservice to the effort that the singer has put into singing the song..Thank you for your understanding and incase you dont ..I can live with it LOL
plain ole me
Being happy doesn't mean everything's perfect.
It means you've decided to see beyond the imperfections.
Be happy!
Love is not about who you live with...it's about who you can't live without!
This is an amazing story of how people can come together in times of need. No matter where you come from, where you've been,where you're at or where you going... there is always someone to STAND BY YOU
There is no Distance between us if you carry the Music in your Heart
And remember:
'Life should NOT be a journey to the grave with the intention of arriving safely in an attractive and well preserved body, but rather to skid in sideways - Chardonnay in one hand - chocolate in the other - body thoroughly used up, totally worn out and screaming 'WOW what a ride!' ;o))
The Girl who silenced the World for 5 minutes.........
The World would be so much better if everyone would have listen and live the way she advised us..God bless her
Many of us had a time in there Lifes where they wanted to give up,wether on people they love , on friends , on Life, the simply get lost between the bumps of Life. Everyday I see people who judge others, wether they know them or not ..just a easy piece of cake to go with the float.
Fact is , you easily find yourself out of the game. if you dont go along with the crowd and sometimes you just need to have the wrong nationality and people will judge you like a enemy , without even knowing you.
But then you have People like this young man Emmanuel who can teach each and everyone who's willing to listen, a Message , based on his Lifestory and the unconditonal Love of his Mother, who has my deepest Respect for raising this two wonderful boys.
I couldn't listen without tears rolling and I'm glad I found him and his story tonight , cause he reminded me , its time to crawl out of this dark Tunnel and start to live again.
I would deeply appreciated if you watch and listen till the end and hopefully share this video, cause we all can learn thru it , that if Love is part of your Life .. NOTHING is impossible !!
As Mr David Russel-Smith said bout Mr Willie....
We can all take a little piece of Willy's philosophy and apply it in our own life. A little bam here? and there could really help connect people. ;o)
At the end of this page I would like to share something personal..whenever I sign a page , comment or my intro , I most likely use * plain ole me * and for some reason , I keep getting told not to put myself down or underestimate myself.
I think this explains a lil why I use this words and its far from puttin myself down