R

o

n

-

N

-

S

u

s

a

n

'

s

Profile Page
Ron-N-Susan's real name is Ronnie & Susan Kinney. Ronnie & Susan is located in Texas / USA and has been a SingSnap member since March 20, 2009. She has a total of 3,195 public recordings that have been viewed 41,099 times and 322 achievement points.
HOUSTON ASTROS ~ WORLD CHAMPIONS 2017 #EarnHistory
Hello friends!
Ronnie and I changed our username - my (Susan) username use to be ElvisFan4Ever - Ronnie (Ron) use to be rwayne....we combined the two accounts into 1.
Ronnie and I met on May 7th, 1999 (ironically my parents wedding day back in 1955), I was 42 years young.... never married!! I knew I'd found that "once in a life-time love" on our first date ~ two days later ~ May 9th. Our courtship was a whirl-wind. Three months later (August 7th), Ronnie popped the question at Zale's Jewelry Store, yes in a jewelry store....of course I said yes. We were married on April 29, 2000. Sincere love and gratitude to my beautiful and loving sister (Debbie F. Preuss) who helped make my dream wedding a reality. I love you so much.
I've lived most of my adult life in the hectic city of Houston. Grew up in about 5 towns/cities in Texas as well as 3 towns/cities in Louisiana during my childhood. Went to 6 different elementary schools. My Dad (my first love) worked for "The Superior Oil Company" which meant......when the rig moved, we moved.
Ronnie and I now live south of Houston near the kids and our grandchildren.
I love that I am from the great state of Texas! BORN & RAISED TEXAN !
Most of you that know me know that I am CRAZY about Elvis, although Ronnie does come first.

Love stories are beautiful and I love telling ours.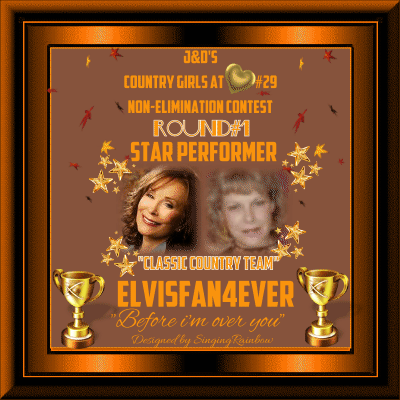 My very first "1st Place Banner Trophy" & it is with great pride that it was achieved in one of the most fabulous contests (my opinion) on SingSnap ~ "J&D's Country Girls @ Heart 41st Edition" !!! Thanks Denise & Johnny !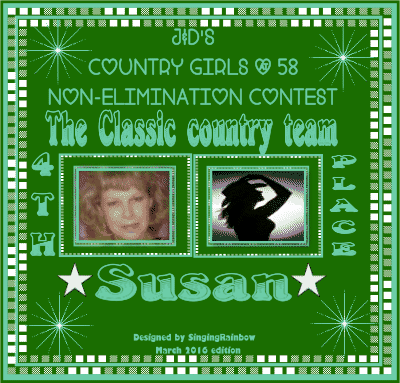 J&D's Edition #71 ~ April, 2017

April 29, 2017

April, 2017