PJlittlesinger's

Profile Page
Information Written by

PJlittlesinger

2
<!-- -->
<!--
-->
I love to sing and listen to music... You can probably guess that since I sing on a karaoke website. I participate in my school choir and I'm in my high school's spring production of Seussical the Musical. One day I want to be a contestant on American Idol and hopefully win. My favorite kind of music is country music... And Christmas music too... Well, around Christmas time! I also love roller derby. My mom's a member of the Jet City Rollergirls and it is SOOOO much fun to watch! Maybe one day I'll do that too! Here's one of my latest recordings:
Look at Me ~ Carrie Underwood
Here are some of my recordings (more coming soon!):
All-american Girl ~ Carrie Underwood
American Honey ~ Lady Antebellum
A Real Fine Place To Start ~ Sara Evans
A Thousand Years ~ Christina Perri
Austin ~ Blake Shelton
Back To December ~ Taylor Swift
Because of You ~ Kelly Clarkson
Breathe (2 A.M.) ~ Anna Nalick
Breathless ~ The Corrs
Call Me Maybe ~ Carly Rae Jepsen
Check Yes Or No ~ George Strait
Crush ~ Jennifer Paige
Dream A Little Dream Of Me ~ Mama Cass Elliott
Enchanted ~ Taylor Swift
Fireflies ~ Faith Hill
Forever and Always ~ Taylor Swift
Helplessly, Hopelessly, Recklessly ~ Jessica Andrews
Hopelessly Devoted To You ~ Olivia Newton-John
If I Fall You're Going Down With Me ~ Dixie Chicks
Jump Then Fall ~ Taylor Swift
Look At Me ~ Carrie Underwood
Love Story ~ Taylor Swift *Sung by Samantha!!!*
Mary's Song ~ Taylor Swift
On My Own ~ Les Miserables
Paris ~ Faith Hill
Payphone ~ Maroon 5 ft. Wiz Khalifa
Quitter ~ Carrie Underwood
Safe & Sound ~ Taylor Swift ft. The Civil Wars
Somebody ~ Reba McEntire
Somebody's Hero ~ Jamie O'Neill
The Best Day ~ Taylor Swift
The House That Built Me ~ Miranda Lambert
The Way I Am ~ Ingrid Michaelson
Tough Little Boys ~ Gary Allen
Traveling Soldier ~ Dixie Chicks
Waking Up in Vegas ~ Katy Perry
What Hurts the Most ~ Rascal Flatts
You're The One That I Want ~ Grease
You Shouldn't Kiss Me Like This ~ Toby Keith
You Were Mine ~ Dixie Chicks
Here are some awards I am lucky and thankful to have recieved--Thank You!
Had so much fun in Deb's contest! And made it to rd. 3 with a
whole bunch of amazing singers! I'm soo blessed!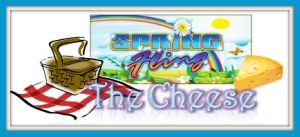 From Week one of the Spring Fling!