Peloyskie's Profile
I'm just here for fun...I love peace..not war!Singing is not really my passion but as my mom said, i can sing,hope she's right...i think so..hehehe!!....thank you very much for visiting my page...God bless you all!!!
Create your own visitor map!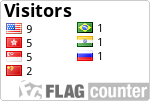 And let me share to you my favorite saying... just simple: "Don't Judge the book by it's cover" just like this Guy,watch!!