mystic_karen's

Profile Page

Ya see, there is this feller in here who goes by the name Calif-Redneck, AKA Fartblossom, who is shown up yonder in that there picture, who threatened to beat me with a ball bat if I didn't clean up this here pro file. SOOOOOOOOOOOO...I thought "hmm, ok Karen. Git er done like that there man said". So I thought to maself, maybe I should hang a few pictures in this here box to kinda brighten up the place.
SO this here is our place, the one up there in the top middle. The High Rise most folks here call it. We have a swimmin hole out in the front, keeps all the youngins clean fer us.

We know'd we waddent able to afford this without Fartblossoms money he makes by widdling sticks and makin them there funny balloon animals, and the possum he picks up on his way home for supper which really saves us on the grocery bill.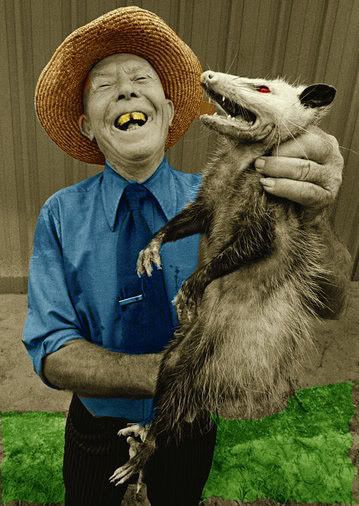 So, you see we are all set and jus doin fine and we are happy. Yep, happy as a lark!

Now, the only problem we have is figgerin out how he's gonna get that dad blamed truck up there outta that there tree!

Ya'll have a nice day now, ya hear?
_____________________________________________________________________________
Thank you all for your comments. I may not tell you each personally, but just know that they are really meaningful to me. I think that SingSnap is SO full of so many talented people, and some who really have HUGE hearts. If I tell you I love you, I really mean it. Again, thank you all for your support, messages, and your comments. I spend alot of time here just listening to alot of people, and so many songs that have touched my heart so deeply. Thank you for that *hugs*
My name is Karen. I live in Michigan, and LOVE to sing. I have been singing since I was a child, starting from church, to the radio (for the church), to doing a few commercials here, to running Karaoke. My moto is...NOONE here is professional, NOT even me. If we were, we sure as heck wouldn't be on SingSnap! *smiles* I think that people who sing are happy people, and what they are doing is just opening thier hearts to the world. I LOVE people who make me laugh, and I don't like drama at all. I have met SO many awesome people on here since I have been here and I treasure each of you. Special thanks to Calif-Redneck (ya fartblossom) for putting my song "Over The Rainbow" on the Hall Of Fame page 4. For doing that, as a favor to him, I sang "How Much Is That Doggie In The Window", which inspired his granddaughter Emily to sing...she rocks!!!!!!! So, my point is... pass on the singing and the kudos. See what you get back. It's what this goofy old world needs! Hugsssssssssss to all
My friend Emily, 7redemily is a 9 year old awesome singer and performer! I am SO very proud of her for her talent and her coming out and singing like she has. She is right ON key and cue. Her Granpa Joe, Calif-Redneck is an awesome person, and friend. He takes pride in his kids and grandkids and with very good reason. Thank you Joe for being there for me. Please, take a listen to Emilys songs, and her Grandpa Joes AND Joes brother, Calif-Rednecks_bro and comment on them. This is one extremely talented family I tell ya!
Here are some really awesome singers.... my friends!!

I have met SO many cool people on here! So many friends that I couldn't even begin to list them! I am very thankful for my friends here. I was raised in a family who play most any instrument made, and we all sing (or cackle LOL). I think that a family that has something like this in common is what holds a family together. Pray everyday, sing, and live life to the fullest! That's what God has planned for us to do from the beginning. Keep on singing your heart out!