mickie1086's

Profile Page
mickie1086's real name is Mickie LaMas. Mickie is 57 years old, is located in Florida / USA and has been a SingSnap member since January 26, 2008. She has a total of 90 public recordings that have been viewed 2,203 times and 132 achievement points.
http://img4.
imageshack.us/img4/1061/mybannerglittere9bbe4b8.gif" alt="">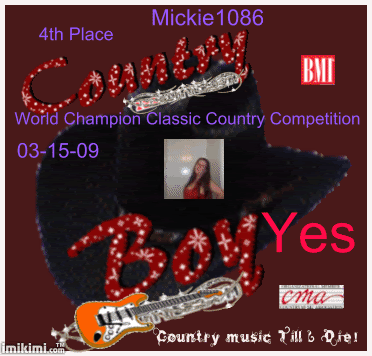 I grew up with a singing mom who taught my sisters and I how to harmonize with eachother. I love to sing probably as much as I love my children whom there are five of. Joe, who is married to a wonderful woman, Shauna and they have 4 sons, Maddox, Alexander Cash, Leland and Evan. Angela, who has three sons and a daughter, Damien, Gaige, Keithy, and Juliet. Michael, who has one son, CJ. My youngest 2 are Thomas, and Daniel. I love to take photographs of nature, cook, read, listen to music and, of course, SING!!!