Krud's Profile
The following info is provided as my ineffectual way of saying "Thanks for stopping by, and sorry my profile isn't cool like other people's."
----------------------
[Note to Gold Members: My playlists are the most up-to-date "lists" I have now, as I rarely update the ones below. I'm leaving there, however, for non-Gold folk (Besides, if I end up Blue again, I'll need a point of reference myself, lol.)
1. For the first couple years that I was on here, I was on dial-up. Yeah, through the phonelines. You remember landlines, right? Before everyone had cell phones? They hung from poles and stuff. Anyway, the local phone company never bothered to get off their butt and add DSL capability to this area, so I wasn't able to participate as much as I wanted to. (Ironically, if we moved five miles in any direction*, we could have DSL.) I sometimes got to sneak a listen on the office broadband, but I would be caught dead recording at work.

-- Anyway, this spring we splurged and got cable internet [while planning to disconnect our landline, which technically has yet to happen o_O], so now I'm able to do video, stereo, real-time chat, and all that fun stuff. I'm still learning to adjust, so I apologize if you sometimes see huge bursts of recordings from me. I'm sure once I've been on broadband for a year I'll have finally calmed down...
2. I originally came here to write parodies. Which meant that some of the songs of mine that you'd click on may not be the song you anticipated. While I will always made a note of it in the song's comments section, that didn't really help you beforehand, and for that I apologize. If I could have figured out a way to denote which were parodies via some sort of picture code, I would have done so. (But I didn't have a webcam, due to fact #1, so it wasn't an option.) So it always just had to be a surprise! Would that Kenny Rogers song really be "Coward of the County"? Or was it "Coward of Accounting"? You never knew 'til you clicked**. Ah, the magic of the internet never ceases. Anyway, shortly after I got broadband, SingSnap cracked down on alternate uses of tracks (including parodies), so now you won't hear any parodies from me. Nope. Nuh-uh. Nosireebob... *looks around nervously*
3. I'm verbose. To a fault, at times. So if you receive a long-winded note from me, I apologize, and assure you that it's nothing personal. (Though if I leave you a short note, that's also nothing personal. Unless I actually say something personal, in which case it is. And this is the sort of rambling I'm talking about, what you see here. If you think this is bad, be lucky you weren't exposed to my blog, back when I used to write in it regularly.) [Man, it feels weird updating all this sections to the past tense. A lot has changed in three years.]
4. I don't give out all 5's. I'm not sure why this is, because the scoring system seems arbitrary at best, and misapplied at worst. I haven't figured why some people think if you can't give five stars, don't give any stars at all. I mean, I would rather a song had a 3-star rating, than a zero-star rating, wouldn't you? Or is it just me? *shrug* Anyway, if a song blows me away, it gets a five. Though it never tells you who gives fives, so I guess I'll have to just let you know when that's the case, huh?
5. Some people have questioned the name "Krud," and have argued that my singing doesn't sound like Krud, or whatever. The name Krud is from a character in a novel I started writing, in which one of the main points of the story was how someone with an unfortunate name may struggle to rise above it, and how one shouldn't let one's self be limited by it. The ironic results I get from using that name for myself tells me that I wasn't too far off. Anyway, if your name is Rusty, I won't assume you're out of practice. ';D
Okay, That's all I have for now. Maybe something will occur to me later. Though if you've actually read through all of this, then you are officially awesome. You should be receiving a certificate to that effect by secret courier any second now. Wait for it...
---
* - except up or down
** - Though in this case, it is "Coward of The County". I haven't written that other one. Yet.
[Update: As of right now, most of my recordings aren't parodies. Just FYI.]
-----------------------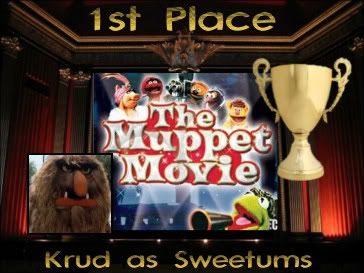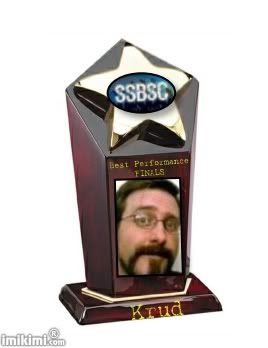 My Favorite Songs(So Far)
These are the songs that I've most enjoyed singing here at SingSnap (other than the parodies and duets):
(Doesn't mean these are necessarily my "best".)
(New additions to the list are in bold.)
(Note: In order to keep my song list from being too overwhelming, both to myself and others, I've recently privated over half of my recordings. So if you happen to click on a link and it says you can't listen to it, I assure you it's nothing personal against you. In fact, if that does happen and you want to hear the track, please don't hesitate to leave me a PM and I can unprivate that song; though people tend not to go too far back, so I'll be surprised if it happens.)
A Hard Day's Night - The Beatles
Almost Like Bein' In Love - Brigadoon
Be Our Guest - Beauty & The Beast
Blowin' In The Wind - Peter, Paul & Mary
Can't Buy Me Love - The Beatles
C Is For Cookie - Cookie Monster
Close Every Door - Joseph And The Amazing Technicolor Dreamcoat
Dentist! - Steve Martin (Little Shop of Horrors)
Drivin' My Life Away - Eddie Rabbitt
Feed Me - Little Shop Of Horrors
Homeward Bound - Simon & Garfunkle
I Could Only Whisper Your Name - Harry Connick Jr.
I Dig Rock n' Roll Music - Peter Paul & Mary
If You're Wondering If I Want You To - Weezer
I'll Be There For You - The Rembrandts
I Love Trash - Oscar The Grouch
Lemon Tree - Peter, Paul & Mary
Mississippi Squirrel Revival - Ray Stevens
Reviewing The Situation - Oliver!
Secret Agent Man - Johnny Rivers
Si Volvieras A Mi - Josh Groban
Song For The Dumped - Ben Folds Five
Song Of The King - Joseph And The Etc., Etc.
Spider-Man Theme - Michael Buble'
Sunshine On My Shoulders (harmony) - John Denver
The Rainbow Connection - Kermit The Frog
Under The Bridge - Red Hot Chili Peppers
Viva Las Vegas - Elvis Presley
------------------
My Favorite Duets (So Far)
"Tennessee Birdwalk" (w/ Betani)
"Don't Fall In Love With A Dreamer" (w/ motherofprodigy)
"Hallelujah" (w/ MeganC)
"Last Night Of The World" (w/ CrestenPixie)
"A Little Fall Of Rain" (w/ Heidwell)
"Come What May" (w/ CrestenPixie)
"Anything You Can Do" (w/ CrestenPixie)
"I Don't Know Much" (w/ katenally)
"Behind Blue Eyes" (w/ tracy0077)
"(I've Had) The Time Of My Life" (w/ erinandhergirls)
"Last Night Of The World" (w/ A_Chicken)
"Summer Nights" (w/ birdheim)
"All I Ask Of You" (w/ sariana)
Nothing's Gonna Stop Us Now"(w/ birdheim)
"Something There" (Beauty & The Beast) (w/ heidwell)
"You Don't Bring Me Flowers" (w/ mcjessica)
"The Last Night Of The World" (w/ mcjessica)
"Don't Stop Believin'" (A cappella) (w/ birdheim)
"I Don't Know Much" (w/ birdheim)
---------------
Open Duets
"I Won't Take Less Than Your Love"
"Kiss The Girl"
(Actually, this is a backup track I made, based on the Disney version, to replace the one SingSnap has. All it needs is the main part.)
---------------
(If you are here because you've heard rumors of parodies, PM me and I'll see what I can do.)