KissingAngel55's

Profile Page
KissingAngel55's real name is Linda W. Linda is 69 years old, is located in Ohio / USA and has been a SingSnap member since February 28, 2007. She has a total of 98 public recordings that have been viewed 9,949 times and 33 achievement points.


Myspace layouts
Free Love Notes, Comments and Layouts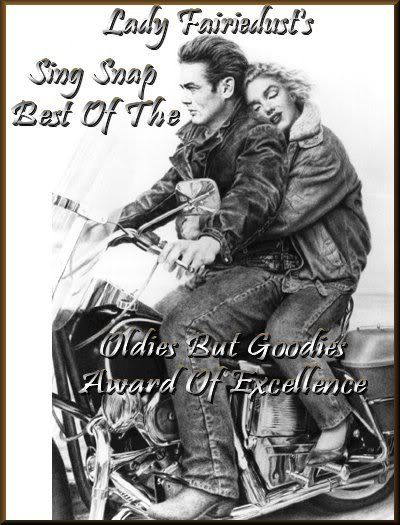 TROPHY WON IN GOLDEN HALLOWEEN CONTEST, 2008
Best Vocals
TROPHY WON IN 2009 - BLIND DUET

Get glitter and more at Blixy.com!
CLASS OF MANY YEARS GONE BY REVISITED~~~SPRING 2009 SEMESTER
CLASS OF MANY YEARS GONE BY~~~FALL 2009 SEMESTER

MY AWARD FOR THE GROCERY STORE CONTEST
We got the clue at the store to find a song title that was between the liquor and the produce department and I guessed Strawberry Wine. It was correct. ChattyCathy52 and Annalea got 2nd and 3rd place for their guesses of Sweet Cherry Wine and Old dogs, Kids and Watermelon Wine.
http://www.singsnap.com/snap/r/aed815bd

imikimi - Customize Your World!
My Award at the Record Shop ~~2009
We got a couple of clues and had to guess who the group was and then sing a song by that group. The answer was Three Dog Night and I sang Joy To The World.
http://www.singsnap.com/snap/r/aec9bfed
HONORABLE MENTION FOR ONE TIN SOLDIER
We had to sing a story song for Miss Harpole's class.
http://www.singsnap.com/snap/r/b7fcb60b
SHERRIE'S VALENTINES CONTEST 2/14/2010
(243 CONTESTANTS)
MY CUPID'S POPULOUS TROPHY BY MISHEL 2/22/10
FOR CUPID'S CONTEST (PARTICIPATION AWARD) (150 CONTESTANTS~ MADE IT 8/10 ROUNDS)
KELLY'S SS PRIMETIME CONTEST ~ FEB 2010 (3/5 ROUNDS)
CDK FLIP FLOP GENDER BENDER OLDIES CONTEST - APRIL 30, 2010 - MAY 11, 2010
CURNY'S WILL TO WIN CONTEST 5/13/10 - 6/5/10