K

e

v

i

n

_

P

'

s

Profile Page
Kevin_P's real name is Kevin Petrinjak. Kevin is 50 years old, is located in Virginia / USA and has been a SingSnap member since May 29, 2008. He has a total of 164 public recordings that have been viewed 1,566 times and 145 achievement points.
Information Written by

K

e

v

i

n

_

P

28
<!-- My stuff starts here -->


My name is Kevin and I live in the US. I have been happily married for 15 years now and my wife and I were blessed with twin boys about a three years ago.
I have been hanging out in my local karaoke bars for more than 20 years. I even had a few brief stints as KJ/Host. Over those past twenty years of karaoke, I swore to myself that I would never:



....buy my own CDG's
....record karaoke on the internet
....put my karaoke videos on the internet
....buy equipment specifically for doing karaoke on my computer


Well you can obviously see how those promises turned out. Incidentally, I now own several CDG's and I have started buying equipment for singsnap.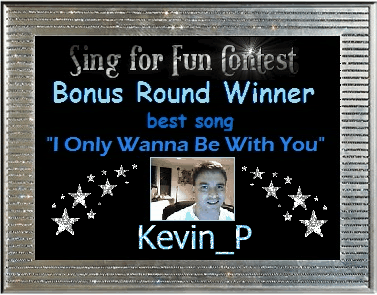 <!-- Weekend Contest Awards-->

<!-- Rock Out 3 Participation-->

<!-- Rock Out Bonus Participation-->

<!-- My stuff ends here -->