Profile
LEVEL 57
http://i.imgur.com/tO7GsW1.jpg
GIVE IT YOUR BEST SHOT,,, LET'S GET ITHE COLD
IM LOOKING FORWARD TO SPRING!!!!!
IM just,,,, JOY,,,
NOT... JOYCE OR JOYS,, JUST,,,, me... JOY
HAPPY HAPPY ,,ME ME ,,,,WELL,,, I TRY TO BE,, AND LIVE UP TO MY NAME,,,
IM HERE,,,Because just I love to sing,,,,,NOT A GREAT SINGER,, I JUST LOVE TO SING.
Will try singing anything … if I can feel it, usually will try to sing it,,, HOPE YOU'LL JOIN IN DUETS,,, DONT BE SHY.
God, Family and Country all important In my life, and music, NATURE, GODS CREATION,,, all life necessities. Im proud to be a Christian, Planting seeds, and watering the soil...
Life is NOT kind, NOT in my life, or so I have found to be true.
Music is a healing go to for me. All genres. If I like a song I will sing it,,,
If you are reading here and you listen to my music,,, my choices of songs, you might be able to read between the lines. MUSIC,,, is my healer and a solace for me.
I appreciate kindness and listens to my song choices...
Love to have feedback. Nice OF you listen in any case.
If I listen to YOUR SING,,, I WILL COMMENT. THANKS FOR ANY LISTENS AND COMMENTS.
We all need encouragement daily...
God is my refuge and music speaks to my soul.
Thanks for stopping and listening and any kind comments you share.
http://media.singsnap.com/bg/midnight.jpg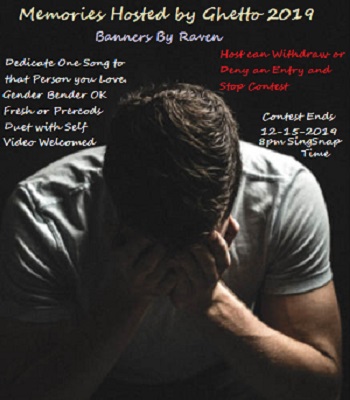 http://i.postimg.cc/zGfMZsHn/Christmas-Bash-Banner.jpg[/img
[/url

http://www.singsnap.com/karaoke/r/b67df2137
I WANNA BE THAT …………….A BEAUTIFUL SONG WANTED TO SHARE
.THANKS IF YOU TAKE TIME TO LISTEN,,
WILL BE BACK TO REPLY IF YOU DO ,, THANKS SO MUCH...
JOY