Jaxster's HTML Profile
Scroll down, there's more stuff down there!!!
CHECK OUT THIS VIDEO: SPIRIT OF JOHNNY CASH SETTLES INTO BODY OF KOREAN TOURIST!!!(Feel free to leave comments or messages, good or bad. I love comments!) Cash Lives

Add to My Profile | More Videos


2012 Presidential Candidate (NOT!)
I'm a cool Asian cat from just south of Memphis, in a town called Southaven, Mississippi. From where I live it's a ten minute drive to the front gates of the King. You know who I'm talking about! I work in one of the glitter palaces of Tunica, MS. Been down there 12 long years! I'm a HUMONGOUS Johnny Cash fan, and love to TRY to sing his stuff. I say "try" because really only a very few do his songs any justice. I think the Man In Black would be okay with me trying though. The great ones are always often imitated, seldom duplicated.
I've been a fan of his since I was just a sprout (even grew up in rural Arkansas!), and the very first record I ever owned was a two-album set of his. The first time I ever heard his voice I was HOOKED! I also was an extra in the movie Walk The Line; I was a prisoner in the concert scene where Joaquin Phoenix sang Cocaine Blues. I'm in this publicity photo from the movie--I'm the mean-looking (ha!), hard-core convict shaking Joaquin's hand as he's reaching out from the stage! I nearly fell outta my chair when I first saw the photo in People magazine. It was vvvvvery cool! Anybody see the movie?
Also a fan of just about all classic country and rock stuff. Elvis (of course!!!), Waylon, Willie, Merle, the Possum, Kris, Seger, Aerosmith, Boston, Patty, Tanya, Marty, John Prine, Iris Dement, etc., etc. Can't sing hardly any of it, but I like to try! Give me enough beer and I might even do some Boss--tramps like us, baby we were born to run! HA!
As you might guess, I'm a big-time karaoke junkie and love to hear others perform--good, bad, and ugly. I'd make a good KJ! I also enjoy sports of all kinds, a good book, ebay, traveling, and meeting people. Every day is a great new adventure! I'm an online karaoke newbie and looked at several websites recently, but for some reason their Cash stuff is VERY limited! I'm extremely excited about this website because it has WAY more Cash songs than any other site I've visited. Now I need to figure out what I need to do to hook up a webcam, and a more professional mic. Any advice will be gratefully accepted! Feel free to contact me anytime, and have fun karaoking everybody!!!!!!!!
I LOVE this beautiful girl's amazing voice. (Please excuse MY dog-like vocals) Check out our duet (she's incredible), and then go listen to HER songs. WOO HOO!!! Cathelia is AWESOME!!! Copy and paste: http://www.singsnap.com/snap/watchAndListen/play/b8145b7e
This video is of me butchering Cash's Home Of The Blues. Sorry about the poor lighting; my digital camera doesn't have an external spotlight. Also, a girl came up while my wingman was holding the camera and told him she was leaving (you can hear her right in the middle of the song!). Like any loyal wingman though, he kept right on filming (I owe ya one Kingsnake!). Feel free to leave any comments. Sign the guest book while you're at it, and have a great day!!!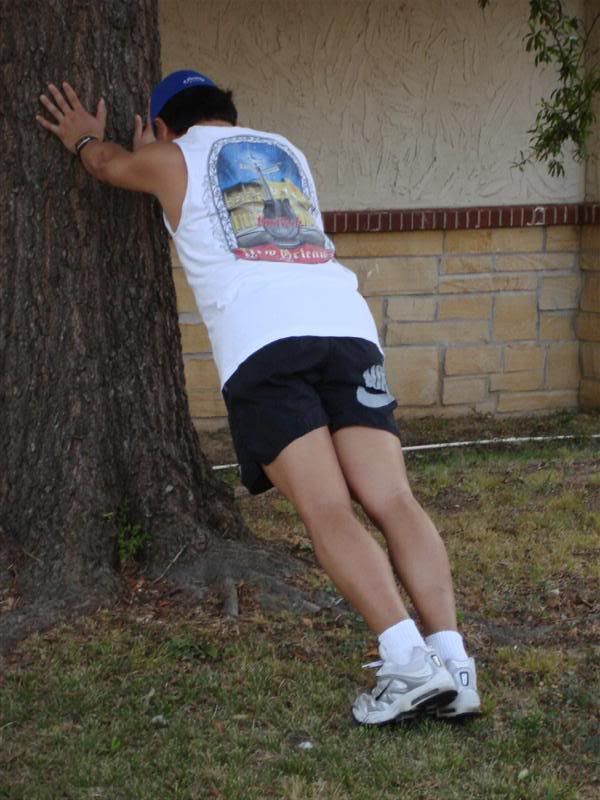 Okay TreeBeard. Put those hobbits down right now, and give me some Entwash!!!