Profile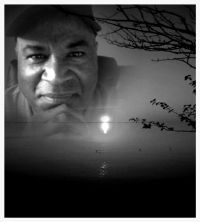 Hello Everyone! I am Don or Donnie, and Welcome to my profile page!

As once an aspiring musician, such as many of you fine people, I truly enjoy listening and sharing with those of you who too also share their inherent and God given talent. Karaoke, has been a great outlet for me. Despite, not being one for much singing, I've known that I could carry a hum from time to time "a little", outside of a wet paper bag... hehe. I simply do it as a tool of enjoyment for relaxation and that is truly the only reason. I'm not on this site to try and impress anyone, because I know there will be songs sung that won't be appealing to the ear. Neither am I here trying to live out a deep seated dream or using this venue as a practice tool to help launch an external career as a singer, though I would contend, that if you are that person... DREAM BIG, DREAM CONSTANTLY, and DREAM ALWAYS!!! Meeting good people who come with no personal agenda can be a by-product of karaoke, and if that occurs, then life breezes on.
A gift possessed is a gift that should be greatly appreciated, but my background never emphasized the need for singing to have become first and foremost a priority in my life. Typically, other events and requirements were there to shape and refine the need and efforts of the day. Had I thought differently I probably would've sung, or tried singing in some street corner harmonic group... now this was and has always been something I enjoyed, particularly when its scorched earth approach was sounding appealing to the ears and the harmony was off the charts... just don't see it anymore!
My personal contentment is just to share with you what little talent I possess and to explore the many genre's of songs available, while hoping you enjoy them accordingly. I am, however, very well aware and do know, that if you don't sing like a songbird, or as a roving baritone, the more you sing the better you become! There is a song somewhere out there for us all, you just have to find it.
My experience as I've tried on occasion, is to sing from shower to shower, and over the years its gotten a little better along the way... though nothing that will generate a star-struck status as of yet, or cause anyone to leave mother or father, or to drop down from a ceiling roof! . That's a very long ways off although I shall get there some day!... hehehe! just kidding...

Moreover, what I will encourage, is for you to sing until your heart(s) content, and never let anyone's negative opinion or personal negative attacks, deter you from inclining your heart to sing that which so delightfully brings you personal satisfaction and enjoyment. It is [YOU], no doubt who is most important to yourself. There will from time to time, be hecklers who will shamefully cast verbal assaults and castigate others for no good reason at all... totally disregarded these individuals. You just KEEP ON TRUCKING with your singing while bearing a SMILE along the journey!!!

Lastly, if you stop by to comment on any I share with you, I'll ensure a return to you in due time, as time will permit, or as my memory will bring back to fruition. God Bless You, and may your sails lead you to always have a... "Happy SingSnap Day!!!"