EarlWeir's

Profile Page
EarlWeir's real name is Earl Weir. Earl is 74 years old, is located in New Brunswick / Canada and has been a SingSnap member since December 17, 2007. He has a total of 95 public recordings that have been viewed 4,380 times and 18 achievement points.
Information Written by

EarlWeir

4
I am attached to a wonderful lady. I come here on SS to relax and sing. I also love to hear other singers. I appreciate it when you have the time to listen however, I understand if you don't. I sing only for the joy of singing. Thanks. Earl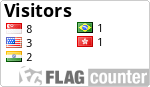 Create your own visitor map!