DECbutterflywings'

Profile Page
DECbutterflywings' real name is Debbie Callicott. Debbie is located in Florida / USA and has been a SingSnap member since March 8, 2007. She has a total of 94 public recordings that have been viewed 8,872 times and 14 achievement points.
Information Written by

DECbutterflywings

3
"The best and most beautiful things in life cannot be seen, not touched, but are felt in the heart."
Helen Keller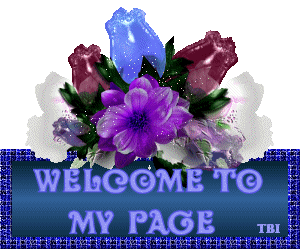 Flash Clocks, Fun Clocks at WishAFriend.com
HELLO AND WELCOME EVERYONE TO MY PLACE ON SINGSNAP...I HAVE MET SO MANY WONDERFUL PEOPLE HERE...AND HOPE TO MEET MANY MANY MORE...
ALITTLE ABOUT MYSELF..
MY NAME IS DEBBIE...BORN IN ALABAMA...BUT FOR NOW HOME IS IN FLORIDA....I'M MARRIED TO A LONG-HAUL TRUCKER..WE HAVE BEEN MARRIED NOW FOR 31 YEARS..MAINLY CAUSE WE NEVER SEE EACH OTHER..IF THINGS ARE GOOD MAYBE EVERY 3 MONTHS...
I HAVE A SON AND DAUGHTER AND 2 GRANDCHILDREN MY DAUGHTER AND HER HUSBAND ARE STATIONED IN GERMANY SO I DON'T GET TO SEE THEM..MAYBE IN 2 MORE YEARS WHEN THEY RETURN TO THE STATES...I HAVE 1 PET AND SHE IS ENOUGH SHE'S A CAT AND HER NAME IS MS.GABBY...SHE'S A RESCUED CAT...AND OWNS THE HOUSE.....
I LOVE TO SING...I KNOW I WILL NEVER BE THE BEST BUT IT'S NOT ALL ABOUT THAT IT'S HAVING FUN AND ENJOYING LIFE..AND USE THE TALENT GOD HAS GIVEN YOU...
I DESIGN DOLLS , CROCHET, AND DO CRAFTS WHEN I'M NOT ON SS..OR FACEBOOK...I LOVE PLAYING IN MY FLOWER SHOP ON FACEBOOK...
THE MAIN THING IS LIFE IS TO SHORT TO WASTE..SO SPEND IT DOING WHAT MAKES YOU HAPPY...
LIVE....LAUGH....LOVE....
"FAITH..."The will of God will never take you where the Grace of God will not protect you. If God brings you to it, He will bring you through it..."
" Love is patient, love is kind. It does not envy, it does not boast, it is not proud. It is not rude, it is not self-seeking, it is not easily angered, it keeps no record of wrongs. Love does not delight in evil but rejoices with the truth. It always protects, always trusts, always hopes, always perseveres. "
' When you reach the end of your rope,.... you will find the hem of His garment '
A DESIGN MY SON MADE FOR ME...GOT TO LOVE KW'S

PLEASE SIGN MY GUESTBOOK AS YOU VISIT..
DEBBIEDDelightfulEEnjoyableBBrilliantBBubblyIIntelligentEEnthusiasticGet Your Own Name Acronym
Name Generators at WishAFriend

MY DESIGNS..