Profile
c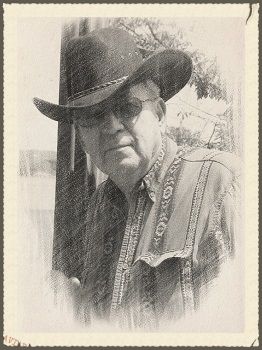 Hello Countrymusicman here. My real name is Leo Weyburn, and in May of 2015, I turned 74 years of age. I came from a large family of 17 children. Most of my family were singers and musicians, so naturally when I was only 8 years of age I told my brother Ernest," I wanted to learn to pick and sing" and asked him if he would teach me. He said," yes he would". He said," first lesson is, if you want to be good at it, only learn from someone better that yourself". Never Practice with people who are not better than you are because you learn a song by listening to someone else sing, and if they sing the song wrong then you will learn it wrong, if they sing poorly you will learn to sing it poorly. and that made sense to me. and that is why on S/S I don't get many Comments. If I go to your page and hear you sing a song wrong, I get away from there as fast as I can and unlike some people I will not leave a comment saying how much I enjoyed hearing you sing, when I did not listen to you and will not leave a bad review unless I'm asked for an honest opinion. There are songs I've heard for years that I should be able to sing correctly but because I was in a situation where I had to hear someone sing it wrong, now I can not sing them because the wrong way is stuck in my head. I'm not trying to say I sing all songs perfectly, even though I try hard not too, Lord knows I make lots of mistakes. That is why I tell everyone don't learn songs from me, I make mistakes, always go to You tube and learn from the best.... Did I tell you I like real country music? Well real country music has been a passion of mine all my life. There are even people who are considered to be Country Music Stars, that I won't listen to because they do original country songs and change them up and in my opinion they destroy the song, Ronny Milsap is one of them, Willie Nelson sometimes is another one who is bad about that and their are others I could mention. Especially a lot of these new so called country stars who are rock and rolling country want to be's and even though I can recognize a song that is not real country sometimes as being a great song, it just does not do for me what a real country song does. Believe me I'm country to the bone. At sixteen years of age I was sneaking into bars to sing my songs. (My mother would have killed me had she known) and have sang with many bands throughout my lifetime and would probably still do it if my health would allow it. Music tends to get into your soul and it has a way of hanging on. So I don't expect people to visit my page since I don't listen to them. There are also people I consider to be worthy of listening to that I don't, because for some reason they don't see me as being worthy to listen to. would be a strange world if we all liked the same things. I just wanted to explain myself and hope you understand. Leo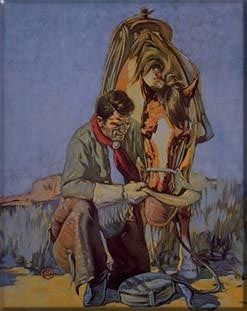 A cowboy's life is not for the meek, his jobs never done, he works seven days a week.
With jeans and boots and don't forget the spurs, he dresses before daylight, time to rustle the herds.
With saddle in hand, he greets his best friend, there's nothing more loyal, as the horse to man.
He's mounted and ready, he calls to the stallion, woah now boy let's just be steady.
Off they tear to the hills at a distant, the pace has been set, it must go as a constant.
A day that is long but has to be done, two spirits that ride as if they were one.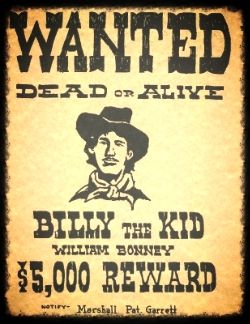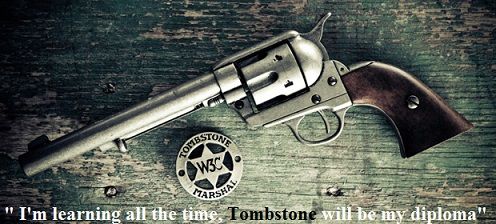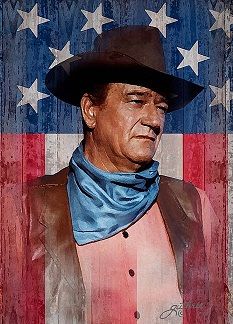 Now this page wouldn't be complete without adding the Duke. John Wayne is an all time favorite of mine. Marion Mitchell Morrison (born Marion Robert Morrison; May 26, 1907 – June 11, 1979), better known by his stage name John Wayne, was an American film actor, director and producer. An Academy Award-winner, Wayne was among the top box office draws for three decades. An enduring American icon, he epitomized rugged masculinity and is famous for his demeanor, including his distinctive calm voice, walk, and height.