chidder's

Profile Page
Information Written by

chidder

4
<!-- start of Chidder's profile -->
It's not the number of breaths you take, it's the moments that take your breath away
One of the sweetest recordings (I love them all) from shi Mosi Nizhoni
<!-- close loveyou -->
Until I am home for good, we will always be together in Electric Dreams, Mosi
<!-- close dreams -->
got invited here by a couple of friends, but didn't
record for a while... too nervous, until a certain
someone asked really nicely to hear me sing something...
it's funny... sometimes when life throws you a curve-ball, you think
you're gonna miss it, but end up knocking it right out of the park....
This site has been somewhat of a blessing for me.... I've sung on stage,
performed solo's in carol services, all of which happened years ago
(last public performance was 17 years ago).... I lost all my confidence
and it has taken a long, long time to let anyone else hear me sing,
including family... well, the love of my life kinda got me out of my
box, managed to persuade me to record a song, and now i have a habit
of finding something to throw my voice at... still don't have any confidence...
wouldn't go anywhere near karaoke if you paid me, and the thought of
singing in front of other people still wigs me out (including singing
in front of the love of my life, who is still refusing to put me back
in my box), but I am slowly getting better, I think.... and I would
sincerely like to thank you, Mosi, for persuading me to sing
thank you all for listening


When Irish eyes are smiling, you know they're up to something
started doing Chipmunk recordings back in November '07... and have been
adding to his repertoire, so check back from time to time, have a listen
to some of my older recordings, if you want to


Smile, it makes people wonder what you're up to

for those of you interested in hearing the Chipmunk songs, here's the list:
Let Me Your Teddy Bear - Elvis Presley
On The Road Again - Willie Nelson
Come Fly With Me - Michael Bublé
When a Chipmunk Loves a Woman - Percy Sledge
Acorns - Presidents of the United States of America
Zoot Suit Riot - Cherry Poppin' Chipmunks
Boulevard of Broken Dreams - Green Chipmunk
All I Have To Do Is Dream - The Everly Chipmunks
Teach Your Chipmunks - Crosby, Stills and Nash
The Chipmunk Sleeps Tonight - The Tokens
The Lion and Chipmunk Sleep Tonight - The Tokens
Blue Moon - The Marcels feat. Chidmunk
Ave Maria - Andrea "The Chidmunk" Bocelli
Rainbow Connection - The Muppets
sadly I've lost a few of my Chipmunk songs, but I'll leave the links up, just in case they come back
Yesterday is history, tomorrow a mystery, but today is a gift. That's why they call it the present.




Perfect Scores:
Over The Rainbow/What A Wonderful World - Israel Kamakawiwo'ole
Sex On Fire - Kings Of Leon

One Often Meets Their Destiny On The Road They Take To Avoid It.

<!-- close preamble -->

<!-- style="position:absolute; z-index:1; top: 12px; width:752px; overflow: hidden;">//-->


<!-- close mybanner -->
<!--end of Chidder's profile-->
<!--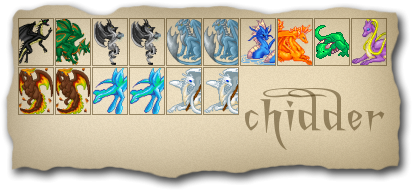 //-->